Since I dropped the ball on posting days 21-30 on time, this one will be. All my annual posts have gotten a little hard to keep track of but it's a nice challenge for me. I feel like my pictures are starting to look repetitive: the tennis courts, cups of tea or my family. I guess it's because I am very family-centered in the summer and playing a lot of tennis but it's okay. I'm happy with it. That is the goal of the challenge!
Day 31: Tea cup. Yogi tea has been a staple for me at night. I am always a fan of the messages on the tea bags. This one is basically the tag line for my life: experience is wisdom.
Day 32: Play time and tubing. I love playing with my niece. It is so cool watching her grow and get better at playing with toys she had no clue what to do with a few weeks ago. Tubing is a summer favorite. Watching my fearless four year old niece tube was insane.
Day 33: Books from Amazon. I ordered a bunch of education books to read this summer and I am very excited to start them. I might be an education nerd but I love it. It was a happy coincidence that one of the books is actually a textbook.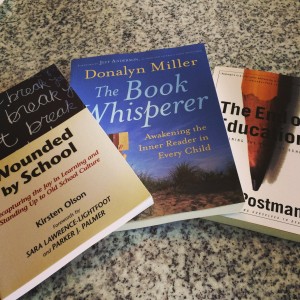 Day 34: Tennis lessons. My family is bit by the tennis bug. My sister borrowed one of my lessons when my neck was still hurting and I got to watch. It's also a nice bonus that the picture was a very cool shot.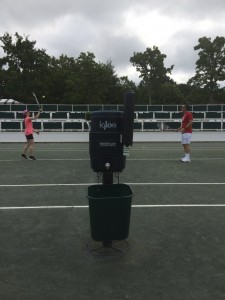 Day 35: Tennis court. My neck was feeling better and I did my lesson the next day. Sunny days on the court are my absolute favorite. There is something very photogenic about the stadium court.
Day 36: Telestrations. This is one of my favorite games for large groups. This has been a routine this summer when we have a lot of guests and it is the best thing ever. The glass of wine was a nice addition for my saturday night.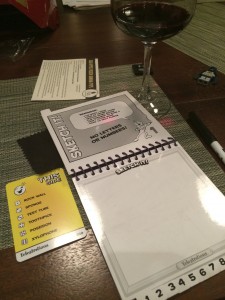 Day 37: Poolside. A friend came to visit and after a rainy and cloudy morning, the weather cleared so we could go in the water. Swimming in the pool and chilling in the hot tub was wonderful.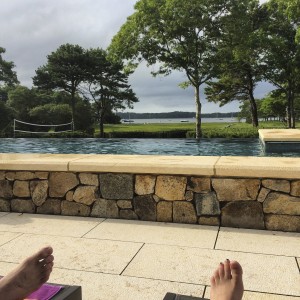 Day 38: Willowbend. In case it isn't already obvious, this place is my second home. This view was really cool. Between a morning of very strange weather, the sunlight was a pleasant surprise.
Day 39: Shades and a lounge chair. My summer has been wonderfully relaxing. Getting to sit by the pool is a great luxury and I was feeling particularly artsy at this moment. These are my new favorite shades.  I have not gone anywhere without them since I got them in Israel. 
Day 40: Niece and nephew. They are both attending the day camp where I play tennis and I occasionally get to do drop-off. I love it because I get to spend quality time with them in the morning and they are both pretty adorable when they arrive at camp. They were totally intrigued by the cup game.