Whew! What a week. Last week seemed tame compared to other weeks I've had but for some reason it feels like it was a very long one. I did manage to accomplish my goal which was to getting to the gym at least twice. I managed to get there three times and went to yoga today. I am definitely feeling better after working out and my body is more used to it now. Hooray for no more "I can't move I'm so sore".
This week gave me:
A cold playoff experience for the Pats (again). Bonus points for a big win against the Texans.
Blogging (some off schedule)
A busy schedule at work
Dealing with a fallen shower rod and replacing it (it only nearly knocked me out once)
A lot of exercise
Finishing my #Grateful100 on Instagram! Day 100 was the playoff game. Perfect timing if you ask me.
A snowy Brookline becoming balmy and the snow melting away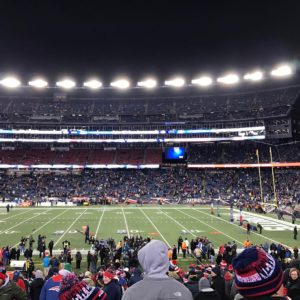 This upcoming week seems less busy also but I can't take that for granted. I have to keep my head in the game of working out and also get started on school work. Classes start up next week! Here's to another wonderful week. What was a highlight of your week?